Welcome to Covenant Presbyterian Church, Fort Myers! 
We are a thriving community of believers who strive to emulate Christ and share his love with those we encounter along the way. Covenant has a long tradition of outreach and service to its members and to its surrounding communities. We hope you will join us for a Sunday service to experience for yourself the joy and fellowship of God's people!
Christmas Season at Covenant

12/3 – "Alternative Giving Market" at 9:00 am in the courtyard, with it's "Angel Giving Tree" opportunity for giving to underprivileged children.
12/3 – "Hanging of the Greens and Wassail Party" at 6:00 pm in Fellowship Hall and Sanctuary, a Covenant tradition.
12/10 – "Covenant Christmas Reception" in the courtyard following worship.
12/10 – "Christmas Caroling" at 2:00 pm by the Chapel Choir and the Youth Group.
12/15 – "Annual Christmas Concert" at 7:30 pm in the Sanctuary by the Chancel Choir, Instrumental Ensemble, and the Bell Choir.
12/17 – "Birthday Party for Jesus" at 9:00 am in the Fellowship Hall, with singing, cake, fellowship, and more!
12/24 – Christmas Eve Services (listed below)
       10:00 am – Morning worship in the Sanctuary
       5:00 pm – "Family" Christmas Eve Service in the  Sanctuary
       7:30 pm – "Candlelight" Christmas Eve Service in the Sanctuary
Please come and worship with us Sunday mornings at 10 a.m. 
2439 McGregor Blvd.
Ft. Myers, FL 33901
239-334-8937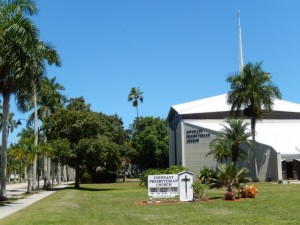 Would you like to know more about why our members love Covenant Presbyterian Church? Please check out our Covenant Treasures page.